Jazz Drums Training
Queen discipline in the world of drums, Jazz is an exciting and limitless universe.
It attracts not only jazz enthusiasts and those who already play it but also drummers of other styles who wish to enrich their playing.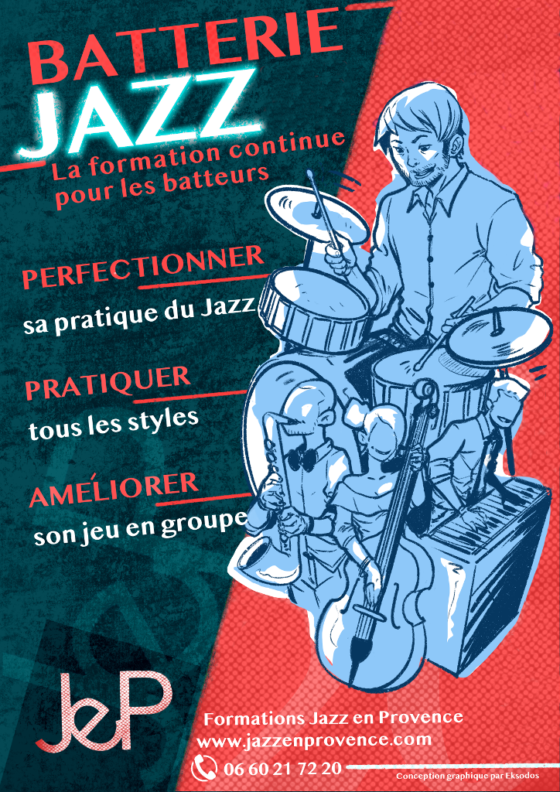 Training aims
Jazz drums training is aimed at drummers who already have a minimum of practice and wish to approach or improve Jazz drums in addition to their course.

It is a continuous training with a monthly cycle allowing a progressive improvement and also to lead in parallel with his general learning of the drums.
Registration is done year round.

Additional trainees may be welcomed occasionally in order to introduce them to the training with a view to their integration. However, a specific request must be made and participation is not guaranteed, depending on the workforce already in place and the level of the intern.

At the end of each term each trainee presents a study of Jazz, based on a "real" theme.
Program of the training
Registration for Jazz Training takes place at the start of the season for the entire season, ie three quarters at the rate of three sessions per term.

Each session is organized on a Saturday during the day, on the dates indicated below, and according to the schedule below.

9h00: Arrival of the trainees, coffee, installation of the batteries
10h00 to 12h00: Practice on Pad or Snare
12h00: Picnic taken together
1:00 p.m. to 3:30 p.m .: Practice on battery (with a break!)
3.30 p.m .: Synthesis, storage
4:00 p.m .: End
Themes studied
A certain number of skills will be approached and developed according to the level and the needs of each one:

1. Warm-ups

The warm-ups allow you to warm up but also to develop the technique of the hands and feet.
At each session a specific warm-up (hands, hands & feet, fingerings, endurance, etc.) is studied in depth in order to develop a varied panel of routines adapted to all circumstances.

2. Theory
Rhythm is the language common to all musicians. No music without rhythm …
Knowing how to read and write it is an essential asset. It is not about music theory lessons but simply to take a moment in each session to clarify the rhythmic elements that will be used that day.

3. Rhythm

Agreeing on the rhythm with his musicians, knowing how to give the starts, making changes to the tempo (e.g. doubling, doubling), becoming aware of the reliability of his tempo are very important achievements for any musician and therefore a fortiori for drummer.
Through examples, exercises together, the "intelligent" use of the metronome, practice, awareness of the rhythm is gradually reinforced.

4. Basics

They are not only the basis for learning the drums but also the source from which any drummer will draw to build his playing and his vocabulary.
All the basics are therefore studied throughout the season with, for each, its applications in the game.

5. Styles

Many musical and rhythmic styles are used in Jazz: swing, "up-tempo", bossa-nova, samba, bolero, funk, waltz, Afro-Latin rhythms, etc.
Each session is an opportunity to discover or deepen a particular rhythm and to leave with elements to study it.

6. Roles of the Jazz Drummer

Successively, the Jazz drummer fulfills different functions, sometimes accompanist, sometimes soloist (chorus, solos, 4×4). Each function highlights a way of playing, of developing one's vocabulary.
These different roles are studied on the basis of Jazz themes, from their deciphering to their full exploitation.

7. Skills

Knowing how to tune a drum kit is an art that improves throughout the life of a drummer.
The type of drums, skins, circles, sticks, location, formation, style are all parameters that determine the tuning to be used.
However, certain principles and "tips" allow you to save a lot of time and then practice alone your ability to tune a battery.
Time is therefore devoted to each session for tuning, with each time a practical exercise on site.
Practical arrangements
A minimum level is required. On average, three years (serious) of practice or a 2nd cycle level are necessary as well as a minimum basis of rhythmic reading.
If in doubt you can contact Carl to discuss it.

After completing the registration form (below), a phone contact allows you to discuss the details and possibly validate the registration.

He will bring on the day of the training:

an acoustic kit with at least a bass drum, a snare drum, a ride and a hi-hat. An alto tom and a bass tom are also useful but not essential.
Enough to record
Something to note

Staff: 3 to 5 trainees

Location: Association Ca Va Jazzer, 235 rue Henri Silvy, 84120 Pertuis (free parking with blue disc)

Hours: 12:00 p.m. to 4:00 p.m.

Cost of training: € 150 per term, ie three checks to be provided at the start of the season. These are collected at the start of each quarter (for information, the course hour costs € 10).
Date of the sessions for the 2020 – 2021 season
1st trimester
October 10 – November 14 – December 12
2nd quarter
January 9 – February 13 – March 13
3rd quarter
April 10 – May 15 – June 12

Note: if a concert or tour is required, one or two dates may be changed. In this case, trainees will be informed at least a week in advance.
For any question or request for information you can use the Contact page.