Cajon Lessons
The Cajon (Cajón) is a percussion instrument of Peruvian origin which for some time has become very popular in Europe and has attracted many artists, not just percussionists.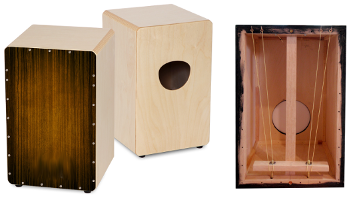 Small (50cm high), light and practical, its grip is very fast. One sits on it and one uses his hands to play by striking on its frontal wall.
The Cajon is sonorous and different sounds, serious or acute, with or without stamp, are obtained according to where it is struck and according to the position of the hands and the fingers.
Thanks to its different sound combinations, it is used in many musical styles, either as a percussion instrument but also as a "replacement" of the drums for practical or musical reasons.
Finally the Cajon is a great tool to discover the rhythm and improve.
Main Axes of Study
Discovery of the instrument
Striking techniques, study of different sounds
Understanding different rhythms
Accompaniment on several styles of music
Update on learning, exchange
Feel the rhythms, learn to accompany or accompany musicians on pieces of variety, pop-rock, blues, etc. Is also part of the objectives of the Cajon internship.
Through concrete examples, everyone can move forward in their musical choices.
Carl Bouchaux teaches the Cajon at the MJC in Venelles, in private lessons and during regular group classes.
Next stage
The interest of an internship is to be able to practice together, to learn from each other and to compare their practice and their learning with others. The duration of an internship also allows to discuss the different themes necessary for the practice (see above).
Click on the poster to enlarge: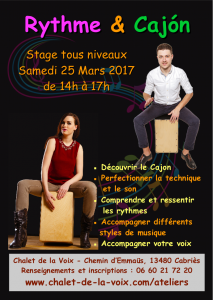 Date: Saturday, March 25, 2017 from 2 pm to 5 pm
Location: Chalet de la Voix, Chemin d'Emmaüs, 13480 Cabriès
Rate: 35 € per check payable to "Carl Bouchaux"
The payment must be sent in advance to reserve its place but the check is cashed only at the end of the course.
Materials to be provided: Each trainee brings his Cajon. For beginners a Cajon can be provided (the number being limited it is necessary to book in advance).
It is also useful to plan what to record and / or record.
Registration: Online only on this link: >>> REGISTRATION <<<
For any information do not hesitate to use the Contact page.