Pro Orca Sticks

History
The company Orca Pro was created in 1984.
Since 1991, the production equipment was modernized and new sets of chopsticks continue to emerge.
The brand also manufactures stranded wands, brooms, drumsticks and other products for traditional percussionists (mallets and other rods vibraphone or xylophone) and also covers chopsticks.
But it is indeed all the "traditional" sticks makes the now renowned European brand that hex.
Today
Early 2013 the company began a new turn with Flavin Ponty its new director.
New models are emerging such as XGRIP models, color sticks and models "Signature".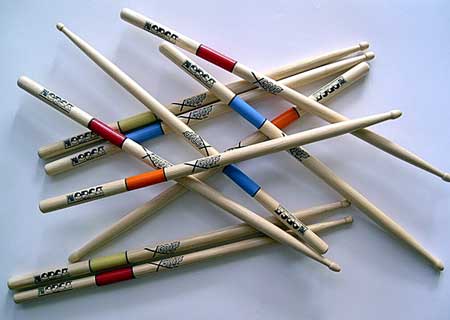 Pro Orca also seeks throughout its chain to respect the environment by not using varnish or chemical solvents. Most models are only polite that brings comfort and keeping the lovely wand.
Carl Bouchaux, having played with many brands and models of chopsticks, to have the opportunity to play on Pro Orca chopsticks and finally chose to be its partner.
It adopted the maple sticks and alternates between models 7A and 5A depending on the project.
More information on the english website of Pro Orca France.